I'm going to share one of my favorite broths with you today, and then I'm going to share a list of all the different ways you can use it. If you have dried porcini mushrooms, a few cloves of garlic, salt, pepper, and a bit of thyme, you're in business. This broth is fragrant, earthy, direct, golden, and peppery – wonderful to sip hot and straight. It's also great as a component in other preparations. I'm including an Instant Pot version of the recipe here (because, so fast!), and stovetop instructions as well (30 minute simmer). No one is going to miss out! It's the prime time of year for this broth!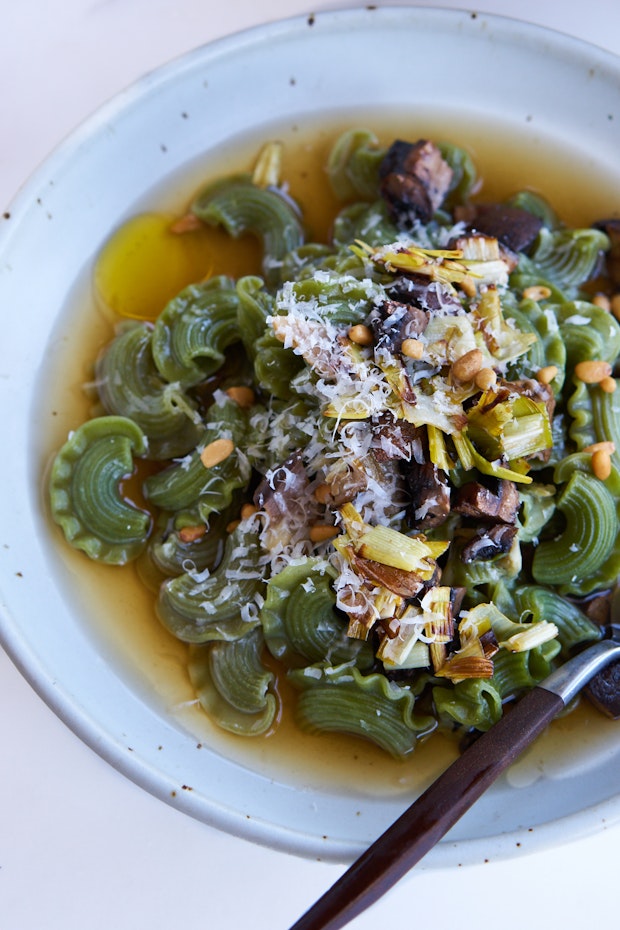 If you don't have dried porcini mushrooms, but you do have dried chanterelles or portobellos, those will work too. Or, veer into the weeds, and make your own dried mushroom blend. If you love shiitake, maybe work those in here.
There are a bunch of different ways I like to use this broth. The photo you see here is some pasta I had on hand in a bowl with the hot mushroom broth, topped with some leeks and mushrooms (roasted on a sheet pan after a toss in a bit of olive oil), finished with a dusting of grated pecorino and toasted pine nuts. You could use raviolis, you could use another short pasta, you could also throw in chopped chard or kale for good measure.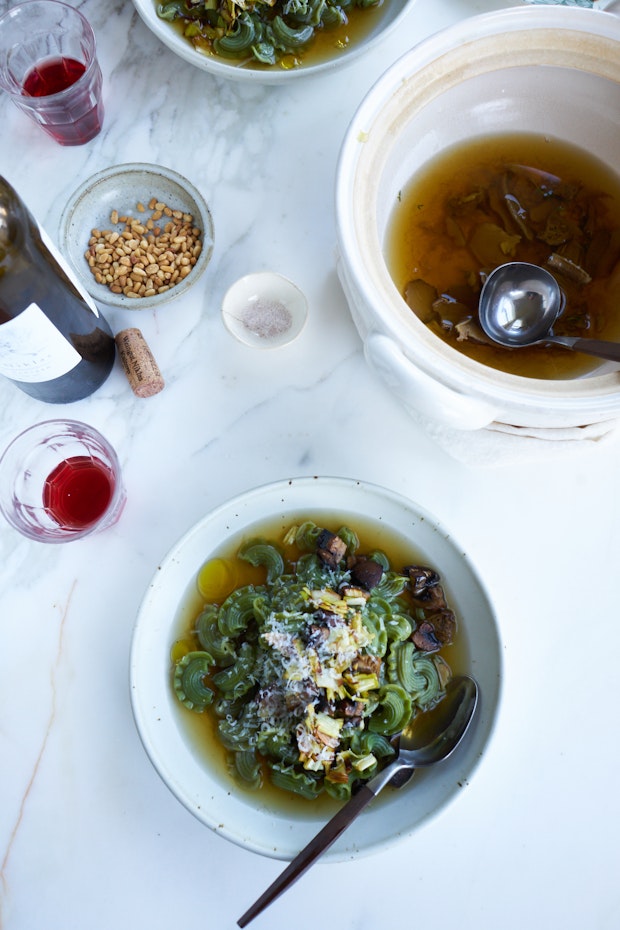 Other Ideas: Use it as the broth in your favorite mushroom risotto. Use it as the broth in a soba noodle bowl with broiled tofu and some smashed scallions and olive oil. Pour it over a bowl of hot, steamed dumplings. I love it scalding hot with plump raviolis, like on a Wednesday night if I'm eating solo.
Broth Variations: There are also a bunch of ways to build on this broth, and tweak it. There's a coconut version I love, and a turmeric version, as well, so be sure not to miss those in the recipe down below.
Continue reading 10 Minute Instant Pot Mushroom Broth…