Ten years ago, after coming home from a weekend trip to Big Sur, I ended up throwing together one of my favorite tofu recipes ever – caramelized strips of tofu served over sautéed shredded brussels sprouts. Toasted pecans go into the pan as well and get oh-so lightly candied as they cook alongside the tofu and sprouts. I thought I'd post a slightly updated version today. Enjoy!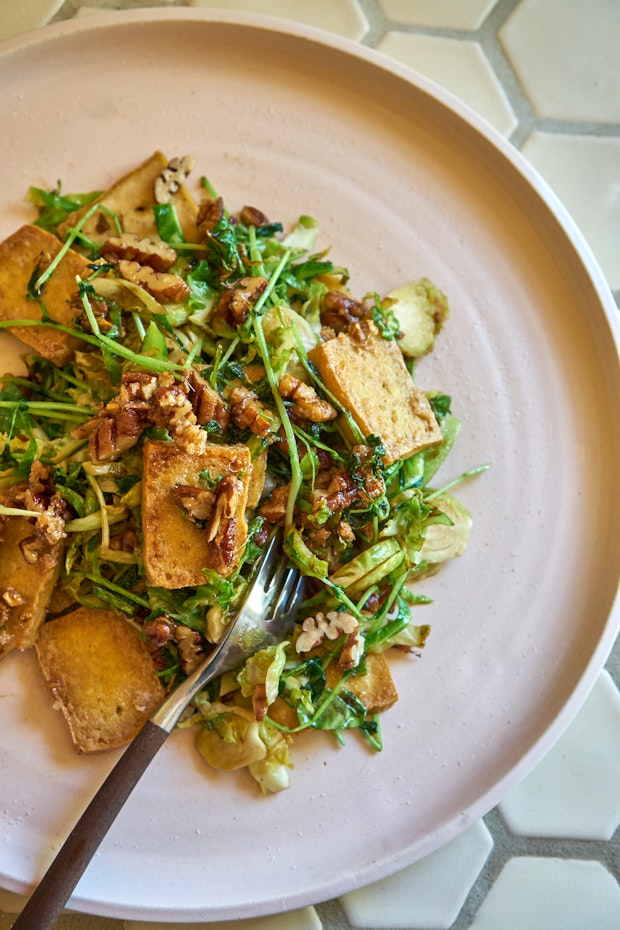 Here's how it came together: a quick survey of my kitchen revealed tofu and a cluster of brussels sprouts. There was also a vibrant bouquet of cilantro tucked into the refrigerator door begging to be used. I scanned the cupboards and pulled down a small bag of (already toasted!) pecans and the remnants of a once full bag of my favorite sugar. Garlic? Check. If you don't love cilantro, swap in a big fistful of pea shoots.
Just a few minutes of knife work and a some fast work with a hot pan separated me from my dinner. I cooked the tofu first, then finished with the brussels sprouts. It worked out nicely that only one pan was dirtied in the process.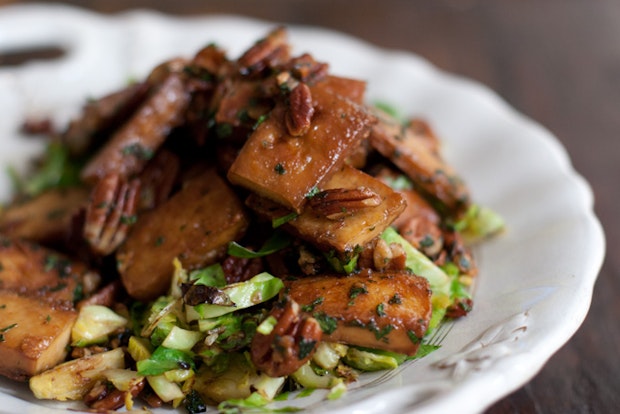 Variations
Some variations come to mind – throw in some nutty, chewy brown rice. You'll have a nicely balanced plate – vegetables, protein, and some complex carbohydrates from the rice. For those of you I failed to convert to fans with this brussels sprout recipe, spinach would be a nice alternative. With the pecans and the crusted sweetness, a few pinches of curry powder (or five-spice powder) would be delicious. There are now lots of great ideas in the comments (down below) as well.
Continue reading Caramelized Tofu on 101 Cookbooks